Chicana/Latina Studies: The Journal of Mujeres Activas en Letras y Cambio Social is an interdisciplinary, peer-reviewed, biannual flagship publication of Mujeres Activas en Letras y Cambio Social (MALCS). This feminist Chicana/Latina and Indigenous academic organization is dedicated to building bridges between community and university settings, transforming higher education, and promoting new paradigms and methods.
The Journal publishes groundbreaking interdisciplinary scholarship creative works by and about Chicanas/Latinas and Indigenous women of the Americas and is receptive to all scholarly methods and theoretical perspectives that examine, describe, analyze, or interpret our experiences. English and/or Spanish submissions of scholarship, commentary, reviews, and creative writing are accepted.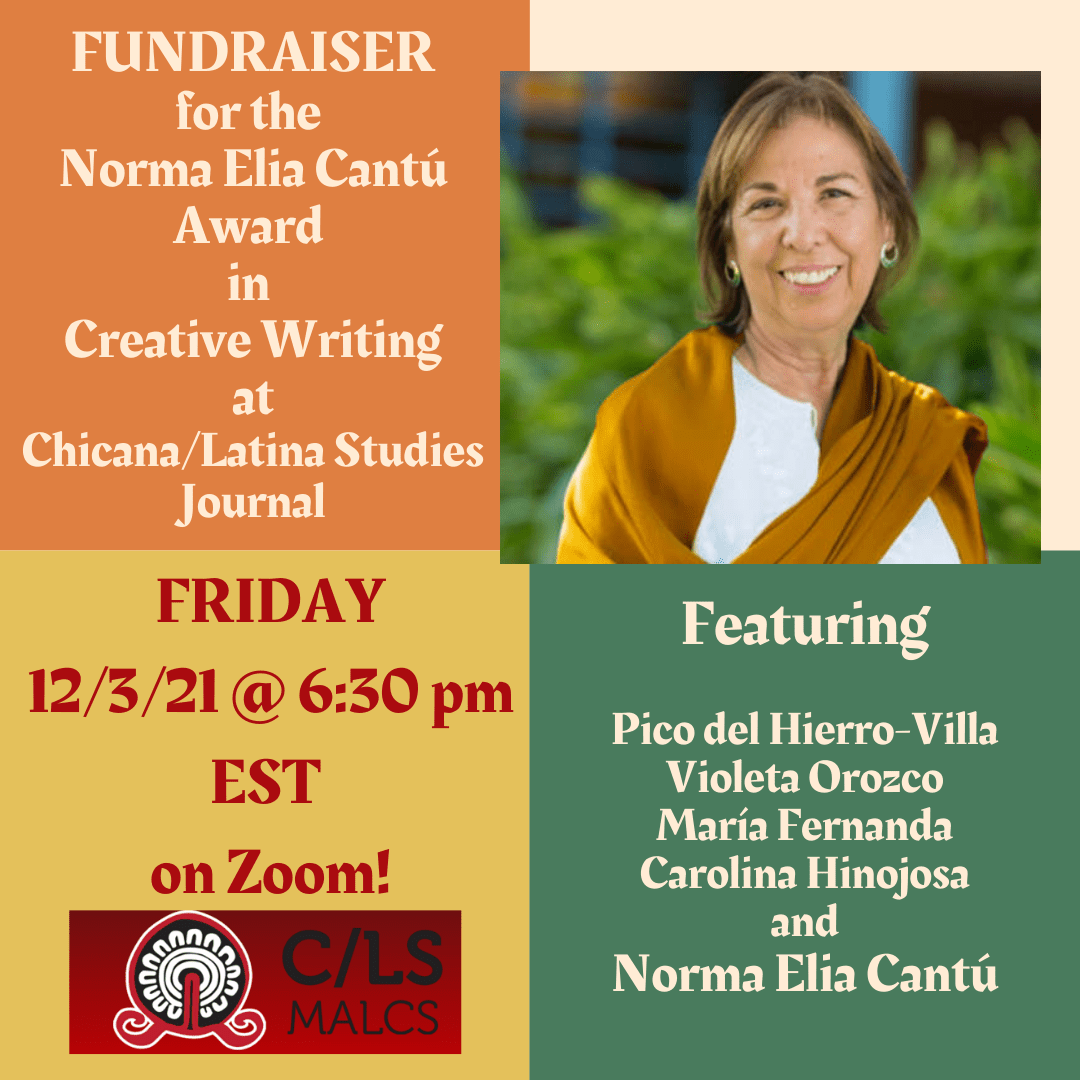 Zoom Meeting ID: 893 2981 0513
Passcode: 049184
Attendance is FREE!

Funds donated during the event will provide support for contributors to the Creative Writing section of Chicana/Latina Studies.
Donate by visiting https://malcs.org/giving. Indicate that your donation is for Chicana/Latina Studies, and use the comment section
to indicate your donation is to the Norma Elia Cantú Award.

Thank you for your support!
New Issue: The Spring 2021 Vol 20 No 2 issue is now available.
Summer Institute 2022: TBD
New Podcast: MALCS Radio!
New Order Feature: Check out our new order tab, options, and items.
New Home for C/LS: It is our pleasure to announce that the MALCS Executive Committee, in consultation with the Chicana/Latina Studies National Advisory Board, have chosen New Mexico State University as the new home for Chicana/Latina Studies: The Journal of MALCS beginning June 15, 2022!
Please join us in congratulating new lead editor Dr. Judith Flores Carmona and the NMSU Colectiva!
New Book Review Editor: We are pleased to welcome Larissa Mercado-López as the New Book Review Editor for C/LS!
New Logo for C/LS: We want to thank ASU undergraduate student Lucia Sandoval and "Cultural Sponge" for designing the new logo for the journal. The flower image represents a group of women collectively working together. The swirl symbols on the side of the logo represent speaking out for those who need to be heard. A book and a sun can also be seen, both encompassing growth and change.
New Website for C/LS: It's taken a year of meetings and collaboration to launch C/LS' new website, but here it is! We proudly ask you to peruse the website and bring to our attention any oversights, corrections, etc. Our new website would not have been possible without the fabulous work of Seline Szkupinski Quiroga and Lee Hodson of VizRED Digital Media and Web Design. It was a delight to work with both of you! If you have any questions or comments about our website, please email MALCS Webjefa Elena Avilés, elena@malcs.org.
Order Back Issues Online: Back issues of the Journal may now be ordered online via https://journal.malcs.org/order/.
---
C/LS: The Journal of Mujeres Activas en Letras y Cambio Social is currently hosted by Mexican American Studies in the College of Education and Human Development at the University of Texas at San Antonio and MALCS.
Previously, the Journal was hosted by the School of Humanities, Arts, and Cultural Studies in New College at Arizona State University.